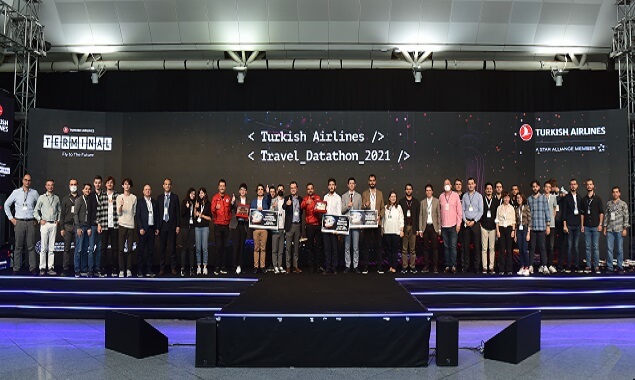 Travel Datathon 2021
October 2021
In order to improve the travel experience of our passengers and to bring innovative ideas to life, we organized a new Hackathon and Datathon this year as part of the Aviation, Space and Technology Festival Teknofest.
We are proud to have successfully completed the Travel Datathon 2021.
This year, we aimed to offer a better, more efficient, more stress-free, happier and more digital travel experience with data-driven solutions to the challenges that need to be overcome at different stages of travel. Datathon participants sought to create value from the datasets we shared with them using new and emerging technologies such as artificial intelligence, machine learning and big data.
Teknofest, Turkey's first Aviation, Space and Technology Festival and held for the fourth time this year, set off with the slogan of supporting domestic and national technologies and has become an event closely followed by our country and the whole world. In addition to the air shows that took place at the event, the festival, where all technology giants exhibited their projects, was also heavily attended this year. At Teknofest, which stands out with its many technologies, this year products developed in many fields such as unmanned aerial vehicles, autonomous vehicles, artificial intelligence technologies, education technologies, space and aviation technologies were exhibited.
Travel Datathon Process
What is Datathon?
Datathon is a competition and data marathon held in a certain time period on business cases using technologies such as machine learning and artificial intelligence. It is expected from the data presented to the competitors during the specified time that they will produce solutions to the determined problems.
Why Datathon?
As a result of the research we conducted at the institution, we predicted that we could solve the problems we needed and look for data-oriented solutions, and for this, different dynamics could come together and develop different perspectives.
To discover different solutions to the business cases presented
To bring new projects to the company in the field of analytics
To be able to use the resulting solutions quickly in company processes
To create our own enterprise ecosystem and increase our company's awareness in this sense
To employ the new skills discovered by this event
Those reasons motivated us at the point of organizing a new datathon.
While determining all these, we decided to hold the competition online, taking into account the epidemic process we are in. We gave the contestants 7 weeks to solve these 3 problems. While determining the cases, we scrutinized them closely, taking care to ensure that the competitors were at a level that they could solve within a 7-week period. After these studies we have done, the Datathon process has officially started.
Case Required to be Solved
Case1: The Next Destination Prediction
Case2: Flight Reason Prediction
Case3: Cargo Delay Prediction
We shared three different datasets for three different cases with the competing teams. The datasets we shared included historical data on cases. We asked them to make case-based predictions for the future by creating a model based on past data.
More than 100 million rows of data were shared with the participants and it was expected to derive value from this data.
Each case was evaluated and scored separately.
Final Presentations
81 Teams /280 people developed their projects online and submitted the results on 13 September. We invited the 10 most successful teams among the teams that sent results to Atatürk Airport to make their final presentations.
The teams that appeared before the jury made their presentations. The ranking of the teams was determined as a result of the points given by the evaluation team and the jury.
Award Winning Teams
| | | |
| --- | --- | --- |
| Categories | Awards | Teams and Members |
| First Team | International Business Class Flight Ticket | Data Science Quintet (Faruk Erdogan Buldur, Taha Varol, Eren Atsız, Zeynel Batuhan Organ, Okan Orsan Ozener) |
| Second Team | Business Class Europe Flight Ticket | Data Butchers (Salih Salihoglu, Ismail Hakkı Karaman) |
| Third Team | Economy Class Europe Flight Ticket | Data Travelers (Mustafa Kucuk, Alper Bora Gel, Aytekin Gel) |
A model of the Turkish Airlines plane was given as a souvenir to the teams that made it to the final.
Datathon is Over, What Will Happen Now?
As we have told all the competitors, we continue to work on how we can work with all the teams participating in the datathon, not just the finalists, and how we can implement the projects they have developed.
We are proud to have reached the point we targeted while designing Datathon and to achieve positive outputs. Thank you to everyone who contributed to the process.