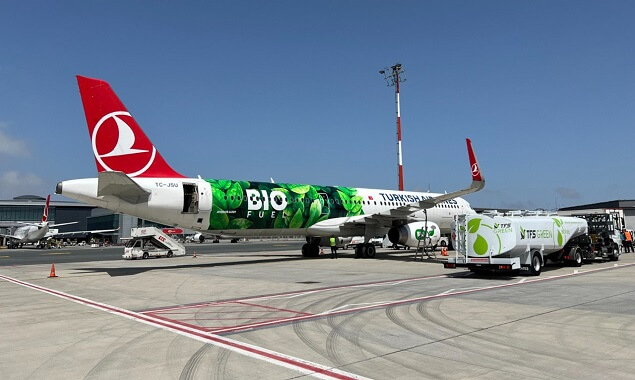 Sustainable Aviation
May 2022
The importance of sustainability in the aviation industry, that is growing due to the increasing population and accordingly, is increasing. According to statistics, it is predicted that by 2050, more than 10 billion people will travel by plane and the impact of sustainability will increase gradually.
So what is sustainability?
Sustainability, by definition, is making the life of humanity permanent while ensuring the continuity of production and diversity. In other words, sustainability is the ability of people to meet their own needs without compromising the needs of future generations.
Although the first thing that comes to mind when it comes to sustainability is the protection of the environment, in fact, the concept of sustainability is a holistic approach that includes ecological, economic, and social dimensions.
Sustainability has 3 basic components. These components are; environmental protection, economic growth, and social development. These concepts should be managed in a balanced way in order to ensure sustainability.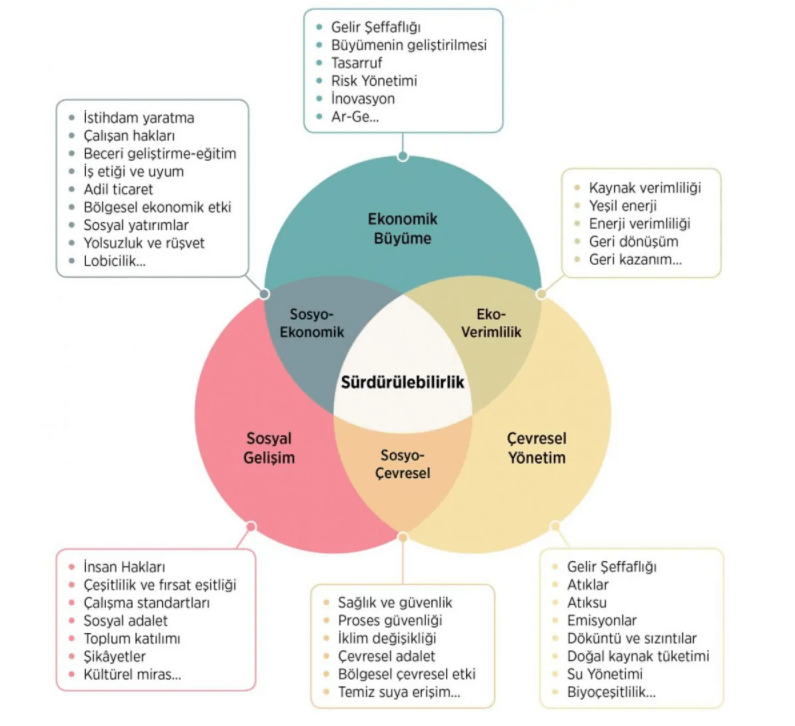 Sustainability Examples
Sustainability encourages people, politicians, businesses and future generations to make long-term decisions. Acting sustainably covers a ten-year time frame (rather than a few months or years) and considers more than short-term profit or loss. A few different examples of sustainability, depending on the industry, are as follows:
● Sustainability in technology, long-term use of electronic devices and reduction of electronic waste
● Sustainability in fashion, production of clothes from non-chemical cotton, avoidance of chemical fabrics for fast and cheap production
● Sustainability in transportation, reduction of greenhouse and carbon dioxide gas emissions, popularization of bicycles or electric vehicles
● Sustainability in workplaces, paper copying, etc. reduction of output, no use of plastic products
● Sustainability in production, use of solar panels for energy production and correct separation of waste
World brands, on the other hand, carry out a series of practices on sustainability and support sustainability. Apple says it uses more recycled materials in its new phones than ever before. Twitter bans 'misleading' ads about climate change.
Sustainable trends in the Aviation Industry
Sustainable Aviation is a long-term strategy to tackle the challenge of providing a cleaner, quieter and smarter future for the aviation industry.
Sustainable Aviation has set a number of goals and commitments covering climate change, noise and local air quality to ensure a sustainable future. Sustainability, fuselage and flight; aircraft propulsion systems, aircraft auxiliary energy systems, airports, air traffic control and aircraft ground services, non-aircraft aircraft, military aviation, etc. It can be applied in fields.
From carbon offsets to reducing (or eliminating) single-use plastics, airlines are taking serious action to address environmental concerns.
Even if it is foreseen that aviation fuels will not reach zero emissions in the world, sustainable trends in aviation are adopted to reduce the carbon footprint.
● Reducing fuel consumption
● Biofuels
● Elimination of Single Use plastics
● Including local dishes in the menus
● Training the passengers
Universities are developing new prototypes on sustainability. Students at Delft Technical University in the Netherlands have designed a prototype that runs on jet fuel or hydrogen. Unlike electric airplanes, this prototype, which is suitable for long-distance journeys, was prepared in accordance with today's airports. The passenger cabin, cargo deck and fuel tanks of the V-shaped aircraft with a capacity of 314 passengers will be located inside the wing. It is stated that Flying-V, which will consume 20 percent less fuel compared to the Airbus A350, which is currently shown as the most efficient aircraft on the market, will make a great contribution to the sustainable aviation industry.
Sustainable Aviation Fuel (SAF)
Sustainable Aviation Fuel (SAF), which has an important role in the achievement of the Paris Agreement targets of the aviation industry, comes to the fore with the aim of decarbonizing the high-emission sector.
The primary benefit of SAF is the reduction of CO2 emissions. Fossil fuels release additional carbon that was previously stored in reservoirs. By comparison, SAF recycles previously emitted CO2 emissions.
Another benefit of SAF is an improvement in local air quality. When used, it can directly reduce emissions compared to conventional jet fuel. Sustainable Aviation Fuel can see up to 90% reduction in particulate matter (PM) and up to 100% reduction in sulphur (SOX).
Third, SAF can also provide a marginal increase in fuel efficiency. Thanks to SAF, which has a higher energy density than conventional jet fuel, an increase in fuel efficiency between 1.5% and 3% can be achieved. This will not only increase the range of an aircraft, but will also reduce the flight distance. This, in turn, will reduce the emissions produced from an aircraft during its mission.
Many carriers are subject to the obligations of the CORSIA (Carbon Offsetting and Reduction Scheme for International Aviation) agreement, which aims to cut their CO2 emissions in half by 2050 compared to their 2005 emission rates. Under the CORSIA agreement, sustainability has been a priority for all airlines.
According to the International Energy Agency (IEA), at the beginning of 2019, only five airports in the world can supply biofuels (SAF from biological sources such as plants).
● Norway-Bergen Airport,
● Australia-Brisbane Airport,
● USA-Los Angeles International Airport,
● Norway-Oslo Airport,
● Sweden-Stockholm Arlanda Airport.