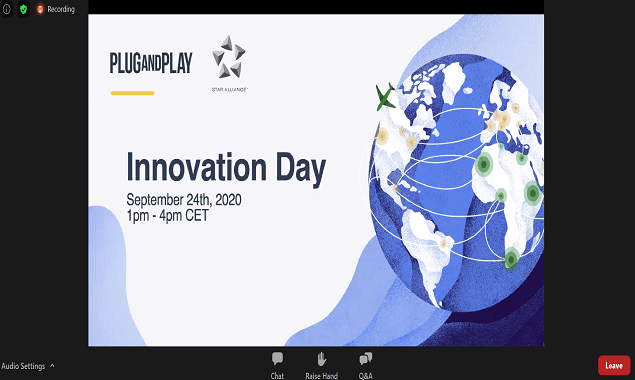 Star Alliance & Plug and Play Innovation Day
September 2020
8 startups took the stage in the innovation day organized online by Star Alliance and Plug and Play.
Startups that produce solutions for new processes after Covid-19, especially for airlines and airport businesses;
iBoardings: iBoardings builds solutions to solve pain points by deploying computer vision. Their first product is a "Cabin Bag Check Kiosk" and was selected by IATA as one of the three most innovative products in the Aviation sector.
bagchain: bagchain is a leading mobile baggage check-in/print kiosk provider. One connection serves all. bagchain's cloud solution is the access point to the airline systems for remote baggage check-in and bag drop solutions worldwide.
Yoyo Wallet: Yoyo is creating a better customer experience via apps that simplify payment and loyalty transactions.
Splio: Splio Mobile Wallets makes it possible for brands to add their loyalty cards and vouchers to their customers' mobiles, using pre-installed apps (wallets: Apple Wallet and Google Pay), and communicate with their customers through sending of push notifications and nearby alerts when near a store.
bob.io: Bob's innovative technological platform, connects key players in the travel industry (airlines, online travel agencies, handling agents, curriers, etc…) and offers passengers a frictionless travel experience by providing off-airport luggage check in service.
Data Appeal: Data Appeal technology monitors and measures a unique blend of geographical data, online feedback, customer purchasing behaviors and trends. They analyze and evaluate business, geographic data and context to deliver unique information about any point of interest (POI), geographic area or venue worldwide and integrate it with real-time customer feedback scores.
Select: SELECT is creating next-generation credit and debit cards that focus on what consumers want the most: powerful & unique rewards. Over the last few years, they have built a network of exclusive and unlimited rewards with premier partner brands and venues at over 1.6 Million locations.
AtYourGate: AtYourGate will shop for and deliver needed food and retail items to the traveler's gate. Customers leverage the AtYourGate app to place their order. Our airport staff will shop for these items, and deliver them to the traveler's departure gate.