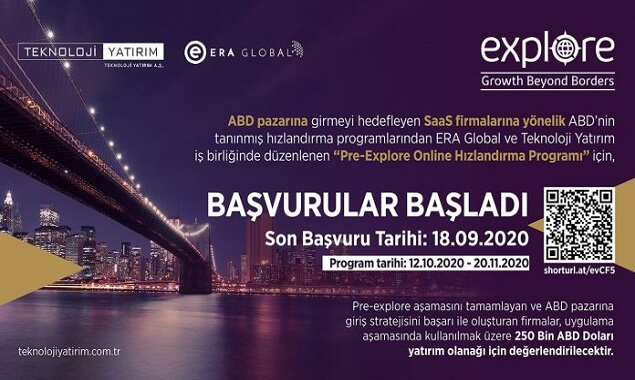 31 Aug

Pre-Explore Receives New York Accelerator Program Applications

The Pre-Explore New York accelerator program has completed the application process for SaaS startups that want to enter or expand their existing footprint in the US market.

The Pre-Explore New York, supported by ERA Global, is organized in cooperation with "Teknoloji Yatırım" within the framework of the Discover Investment Program.

The Pre-Discovery Program is a 6-week intensive, high-impact and hands-on educational, online initiative that combines weekly workshops, one-on-one office hours, mentoring hours, and some follow-up tasks. Suitable for companies already operating in Turkey and/or other markets and with US expansion plans. This program is primarily aimed at providing beginners with valuable fundamental knowledge to unlock the US market from a cultural and commercial perspective. The program will be conducted entirely in English. The current focus of the Pre-Discovery program is SaaS (Software as a Service) companies.

Technology Investment can invest up to $250,000 in equity to support startups' entry into the US market after Pre-Discovery. Companies will be evaluated for an investment based on program results and progress.

To give a few details within the scope of "Pre-Explore New York Fall 2021";
Two founders from the selected companies have the right to participate in the program, which will take place online between 4.10.2021 and 12.11.2021.
Program fee for selected companies is covered by Teknoloji Yatırım.
To companies by making use of the ERA Global network in Pre-explore New York;
Researching the US market / customer needs and obtaining consultancy support focused on ensuring product market compliance,
Receiving support for appropriate product positioning and determining competitive advantage,
Identifying and contacting the Program team with eligible partners and customers in the USA,
Attending special events for investors in the USA
Opportunity to be evaluated for an investment of 250,000 USD to be used in the process of entering the US market.
After the applications are evaluated, the interview process will be carried out with the prioritized companies. Companies that have completed the Pre-Explore phase and successfully formed the US market entry strategy will be evaluated for an investment opportunity of 250 thousand dollars to be used in the implementation phase.