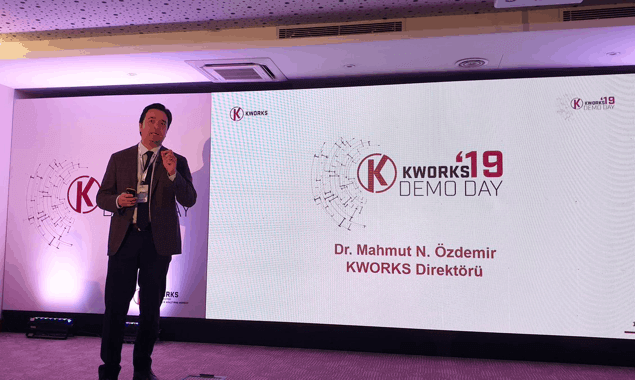 Startups Made Their Presentations at Kworks Demoday 2019
December 2019
21 successful startups in the Acceleration, Pre-Acceleration, Fintech and IoT programs of Koç University Entrepreneurship Research Center (KWORKS) has been conducting during 2019, took place at Kworks Demoday 2019.
150 prominent names of the startup ecosystem including investors, business people, mentors and industry experts took place.
Details of 21 startups presented;
KWORKS'19 ACCELERATION STARTUPS
ARCHMIR: It offers a solution that automates damage assessment and expertise processes from end to end with artificial intelligence technology for the insurance industry.
DINER: A new generation restaurant discovery and menu display application that takes its power from augmented reality, quickly creates three-dimensional models of food.
EXENIZE: It is a cloud-based project management software that offers specially developed end-to-end solutions that companies, TV series and advertising companies use to manage their sets.
GAMITIVE: Platform that enables users to easily produce playable ads that maximizing user interaction and content delivery from their browsers.
MaxSpotter: It is an optimization tool that reduces the cloud costs of high-traffic online platforms by up to 90%.
MİSSAFİR: Home rental management platform that offers management and operational support in popular short/medium-term home rental sites which in a technological, innovative and data-driven way.
MOTİVACRAFT: It offers cloud-based software that increases your employees' motivation, performance, loyalty and increases your earnings by gamification method.
PINCIDENT: Two-way instant hazard notification and communication platform that provides management of risks and emergencies that threaten occupational health and safety for industrial enterprises, orgaized industrial zones, municipalities and institutions.
KWORKS FINTECH STARTUPS
BALYA: Mobile application that allows users to keep track of their account balance by gathering information from their deposit and foreign currency accounts and receive the most suitable offers for their assets.
DigiliraPAY: It is a cryptocurrency payment gateway where customers pay with cryptocurrencies and member merchants receive payment with fiat.
RentRovi: Web platform that offers direct, inexpensive and reliable housing rental experience for tenants and landlords.
KWORKS IoT STARTUPS
AVOKADIO: Avokadio is helping people struggling to loose weight or want to keep fit and eat clean for a healthy life by measuring their metabolism with a single breath and giving nutritional advice based on insight data making wellness personal and easy.
ZGN: Technology initiative that produces electronic cards that can convert existing electric forklifts and pallet trucks to automated guided vehicles with the plug-play-test-use method.
KWORKS'19 PRE-ACCELERATION STARTUPS
ENGAGEHANE: It is a platform that integrates university students through micro-level social media to the current advertising and marketing understanding.
FETALIST: Personalized AR / VR for patient and physician by combining information that clinical information and radiology images with deep learning and word processing methods.
JETLEXA: SaaS software that automates legal document instructions, correspondence, employee and customer documents etc. preparation by converting draft documents into smart forms.
LİSTELE: The platform that searches the cheapest of the desired product among all the sites that sell that product, presents it in real time and allows you to be easily informed about the price drops.
MACERİTA: A platform that enables the exploration of the potential of adventure sports in our geography through augmented reality technology and virtual tours.
SmartOpt: Machine learning and artificial intelligence integrated software solutions for smart optimization developed for supply chain and logistics operations processes.
TripRouter: Application that optimizes the route according to the parameters entered by the tourists, shortens the travel planning process and offers the most efficient way by artificial intelligence.
T-FASHION: A platform that offers customized fashion reports and spotlight trend forecasts in line with deep learning-based social media analysis to solve the problem of predicting trends of textile and apparel companies.