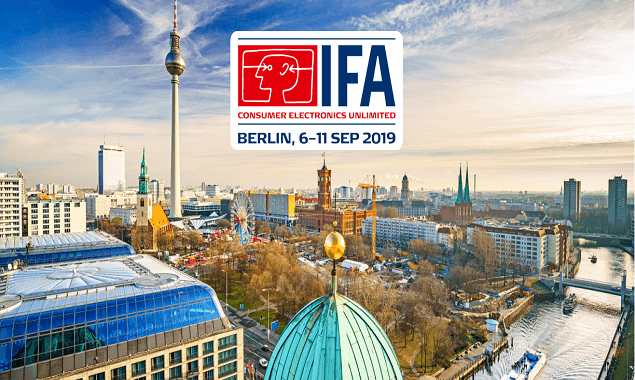 IFA 2019 Tech Exhibition
September 2019
Berlin's massive tech exhibition IFA, , organized traditionally in Berlin, was dominated by the big brands' unveiling of phones and giant TVs, but beyond the headlines are hundreds of eye-catching new ideas.
From IFA 2019, we have compiled 10 innovative products for you.
FoodMarble AIRE Personal Digestion Tracker
A pocket-sized breath-tester, FoodMarble's AIRE figures out what foods you are unable to digest. The first-ever 'personal digestive tracker', AIRE caters for the one-in-eight people that eat food not compatible with their digestive system, something that can cause irritable bowel syndrome (IBS). The device, which can measure the level of fermentation in your intestines from your breath, will be available with a price tag of around $ 180.
Samsung AirDresser
This is a very useful device for those who want to refresh and revive their clothes. AirDresser emits 'jet steam' from a vent on the floor to remove bacteria and a heat pump to dry them out and remove smells.
Aalto Explorer FIND-X 3 Underwater Drone
The ocean covers nearly 70% of the Earth, yet 95% of it remains not discovered.
Finland-based Aalto developed the world's first underwater expedition platform where anyone can sign-up and enjoy, via a virtual reality headset, live streaming video in real-time from the bottom of the world's oceans. It's all currently at the prototype stage.
Barisieur Tea and Coffee Brewing Alarm Clock
The automatic tea-maker-meets-alarm clock, popular in the UK in the 1960s and 1970s, and yet its stylish return at IFA 2019 instantly seems inevitable.
The Barisieur gives the caffeine addict options to wakeup with a cuppa ready to drink, or it can be delayed by five, 10 or 15 minutes after the alarm. Barisieur will go on sale with a price tag of $ 420.
Veritable Connect Smart Garden
Veritable smart garden device is a device that can help you grown your own aromatic herbs, edible flowers and baby vegetables all year round. Veritable; creates an artificial garden environment with automatic light, irrigation and nutrients. All you have to do is check the water in the device's tank at regular intervals. The device will have a price tag of around $ 300.
Babeyes Baby's POV Camera
Wondering what the world looks like from a baby's point of view? Then take a look at the camera that Babeyes did. With a hidden camera located in a teddy bear, you can record all your baby's movements and watch them later. Babeyes will be sold at a price of around $ 140.
Airvida C1 Wearable Air Purifier
The world's only (obviously) wearable air purifier designed specifically for children aged three to 10 years old, Airvida's C1 generates 2,000,000 negative ions per cubic centimeter every 0.6 seconds around a baby's face. That's 100 times more than 'natural forest ion concentration' according to the makers. The device essentially cleans the air that children breathe and creates a healthy environment for them.
Bone Tech IceBRKR Ski Goggles
If you want to listen to music smoothly while skiing, BONE Tech IceBRKR ski goggles may be the product you are looking for. BONE Tech IceBRKR sends low frequency sounds directly to the inner ear through the jaw bones. The advantage of the technique is that you can also hear what's going on around you, which is very important on the slopes. A second feature is Bluetooth 5.0 MESH, which lets you create an intercom with up to 17 other people within a mile. That sounds great for staying in touch, something that's very tricky in large ski resorts.
Capsulier REVO Coffee Packaging Machine
This capsule packaging device allows you to make custom blended coffee capsules in minutes. It pops easily into espresso machines, and creates any kind of blend a coffee-lover can dream of. Capsulier uses stainless steel capsules that can be used ad infinitum.
Welt Smart Belt
The micro USB-charged Welt, produced in South Korea, is a belt that tracks the size of your waist as it expands and contracts, uses a pedometer to track your activity and also takes account of how much you're eating and then shares this data with you via a smartphone application.