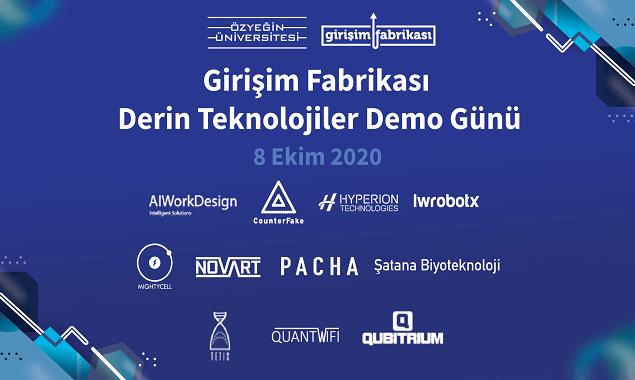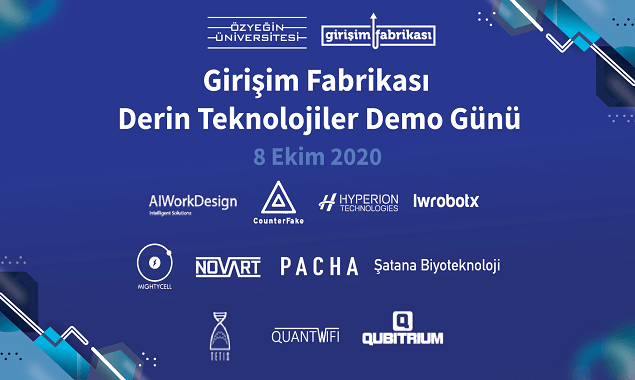 Girişim Fabrikası Deep-Tech Demo Day
October 2020
Deep-Tech Entrepreneurs of The Fit Startup Factory met Investors on Deep-Tech Demo Day!
Deep-tech entrepreneurs supported through different entrepreneurship programs offered by the Center for Entrepreneurship and the Fit Startup Factory at Özyeğin University met investors on Thursday, October 8, 2020.
The live streamed event featured Duran Cesur, Investment Manager at Vinci VC, and Gökhan Güner, Managing Partner at ACT Venture Partners.
Prominent representatives from the investment ecosystem, including Tarvenn, Actus Portfolio, and Techone VC, Inventram, Ida Capital, Galata Business Angels, Angel Effect, Collective Spark, Bosphorist Technology Fund, Vestel Ventures, TR Angels, Kültepe Yatırım, 212 VC, Earlybird and Teknasyon also followed the live event and presentation of the entrepreneurs.
11 entrepreneurs from the Biotechnology, Optical Wireless Communication, FoodTech, Image Processing, Artificial Intelligence, Quantum Communication, Autonomous Vehicles, Energy, Space, and Aviation verticals pitched their solutions to challenging problems.
You may access the video recording of the live event via the following link and check out short descriptions of their innovative solutions.
Counterfake: Counterfake helps companies protect their brands by detecting fake products sold online via different digital channels and providing actionable insights with state of art artificial intelligence and image processing technologies.
Hyperion:  Hyperion develops cutting-edge ptical wireless communication (OWC) based solutions to empower next generation wireless networks for seamless wireless connectivity.
IwrobotX: IwrobotX develops solutions to clean fresh water resources and coastal areas more efficiently with autonomous marine vehicles.
Mightycell: Mightycell provides solutions to increase the capabilities of unmanned aerial vehicles with hydrogen-based new generation fuel cell technology.
Tetis Biyoteknoloji: Tetis develops value-added products from discard wild marine resources which are rich in collagen and help wounds heal faster.
Qubitrium: Qubitrium develops high security communication systems and high precision imaging solutions with quantum technologies.
AIWorkDesign:  AIWorkDesign helps wind power plants comply with regulations and increase their profitability by providing artificial intelligence-supported hourly and daily forecasts.
Şatana Biyoteknoloji: Şatana Biotech develops baacteria-based next-gen solutions in the field of agricultural microbiology that increase crop productivity.
Novart: Novart develops new generation small sized satellite launcher solutions.
QuantWifi: Quantwifi develops high-tech solutions which help internet service provider companies achieve high precision in identifying and resolving the WiFi issues correctly and efficiently.
Pacha: Pacha produces natural collagen and protein chips. Delightful snack without any additives or preservatives in different flavors for different tastes.