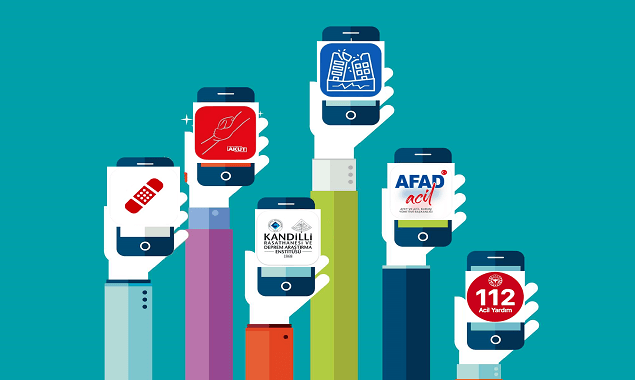 Disaster Coordination Systems
February 2023
After natural disasters, it is important to work in a coordinated manner to meet the needs of affected areas and to assist disaster victims. We have compiled some applications and systems developed for this purpose.
AFAD Acil Çağrı: With AFAD's mobile application, you can make emergency calls before, during, and after disasters. In addition to emergency calls, it is also possible to use features such as messaging with 112 Emergency, making voice calls, and learning about the nearest gathering areas. If you are unable to speak, you can also request help via messages using emergency sentences within the application.
eAfad: It is AFAD's mobile application where alerts and precautions are shared in case of disasters and emergencies. Initially, the application only displayed earthquake information, but it may provide early warnings of natural disasters such as floods, landslides, tornadoes, and storms to users in the future.
Rasathane: It is an application that allows us to learn about seismic events detected by the Boğaziçi University Kandilli Observatory in real-time.
Düdüğüm: It is a mobile application that helps determine your location by making a whistle sound in case of debris or emergency situations. You can also send your latitude and longitude information (as a Google Maps location link) via SMS to pre-determined numbers by clicking on the "I am Safe" or "I am Not Safe" buttons on the application.
Deprem Riskim: It is an application where you can mark the point belonging to your building on the map and view building type and, if any, vertical irregularity and plan irregularity information prepared according to standards with address information, photos, and construction year information. According to this information, you can see the risk status of your building.
Güvendeyim: It is an application that allows you to inform your loved ones that you are safe in case of earthquakes, floods, or other emergencies. Thus, base stations are not occupied, and those affected by the disaster can easily make phone calls.
112 Emergency Assistance Button: It is the application of the Turkish Ministry of Health and alerts the emergency service in case of emergencies and allows you to share your location.
Deprem.io: It is a platform that can be used by those who want to help with earthquakes and those who need help. Assistance such as setting up tents and making donations to institutions can be provided through the platform.
Afetbilgi.com: It is a platform developed by ODTÜ students aiming to bring together the information needed for earthquakes. Information such as temporary shelter, safe gathering areas, furniture donation opportunities, Kızılay donation points, important phone numbers, and important websites are included.
Disaster Map: It focuses on solving communication and coordination problems among local authorities, civil society organizations, companies, and volunteers. Disaster volunteers can be viewed live on the Disaster Map. The application also aims to identify and supply the needs in disaster areas.
Depremyardim.com: It is a site created by a group of volunteer programmers that enables the registration of incoming aid and address notifications."
Kanka.host, Dostluk Çatısı, and evimdekal.com.tr: Platforms that bring together people who want to share their homes with those who have been affected by the earthquake and need shelter.
Pativer.app allows for the sharing of information about animals that have been affected, lost, or are in need of assistance due to the earthquake. The platform also provides a service for those who wish to adopt pets.
IFCR First Aid: This first aid application provided by the Red Crescent explains how to administer first aid in specific situations.
There are also applications available for reporting earthquakes abroad.
Emergency – American Red Cross: This application, created by the American Red Cross, sends notifications when natural disasters such as earthquakes, tornadoes, and tsunamis occur. It displays gathering points on the map and provides guides on what to do before, during, and after disasters.
LastQuake: The European-Mediterranean Seismological Centre (EMSC) provides users with notifications of earthquakes occurring around the world.
FEMA: The Federal Emergency Management Agency's application provides support to users regarding disaster preparedness, real-time disaster alerts, and post-disaster resource centers based on their location.
Family Locator and Find My Friends: Location sharing applications are available for tracking the location of your family members after natural disasters. In the application, users who have added each other can track each other's locations on a map.