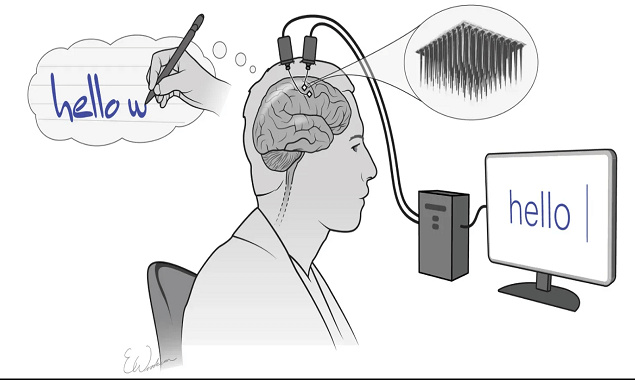 Brain-Computer Interface Allows Paralysed Man to Write Again
May 2021
The team, based at Stanford University, coupled artificial-intelligence software with a device, called a brain-computer interface (BCI), implanted in the man's brain. A paralysed man has used a brain-computer to write on a screen at speeds almost as fast as an able-bodied adult, according to a new study.
Researchers have developed a method of communication for people with paralysis that uses a computer to turn mental handwriting into on-screen words. A computer decodes attempted handwriting movements from brain signals, and may allow much faster communication than was previously possible, scientists say.
"This approach allowed a person with paralysis to compose sentences at speeds nearly comparable to those of able-bodied adults of the same age typing on a smartphone," said Prof Jaimie Henderson of Stanford University. "The goal is to restore the ability to communicate by text."
Researchers say the new findings could lead to further advances benefiting millions of people globally who have lost the use of their upper limbs or their ability to speak due to spinal cord injuries, strokes or amyotrophic lateral sclerosis (ALS), also known as motor neurone disease (MND).
The authors suggest that these methods could be applied more generally to any sequential behaviour that cannot be observed directly, such as translating speech from someone who can no longer speak.