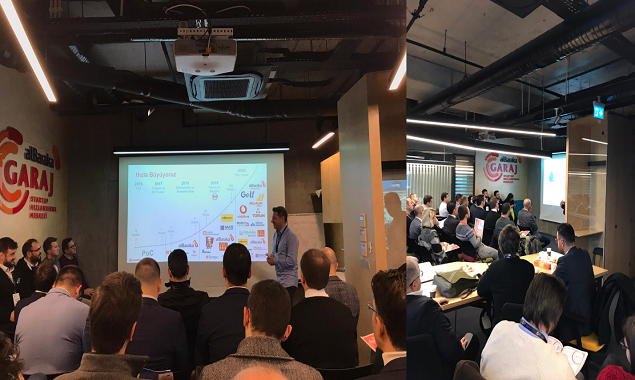 Albaraka Garage Acceleration Program Demoday Completed
January 2020
Representatives of many companies that continue their work in the entrepreneurship ecosystem have taken their place to the demoday event organized by the Albaraka Garage Startup Acceleration Center.
At the event, 3rd Term initiatives, previous graduates and 15 venture investments of Albaraka Garage Startup Acceleration Center made presentations.
Here are the initiatives that make presentations;
Kronnika; It is a Robotic Process Automation (RPA) platform built on up-to-date and reliable technologies with a unique approach.
Inooster; Software that enables companies to reach their goals by increasing the efficiency of employees through gamification.
Fanaliz; It is a decision support system that can measure the credit risk of real or legal persons by analyzing hundreds of data in seconds.
Miks; It is a robo-counselor that offers investment consultancy services offered to high asset group to a wide audience with a brand new experience.
Bakiyem; Fast and easy payment system via computer and mobile devices.
Vomsis; It ensures that all bank accounts can be monitored securely from a single screen.
Okul101; Social network structure that makes the interaction between stakeholders qualified and mobile with assessment and evaluation processes to all formal education institutions at K-12 level.
Juphy; It is a new generation customer support platform that provides support management on social media from a single channel.
Clotie; It offers people who do not have time to shop at regular intervals to try and buy clothes that are specially combined with their style by personal stylists.
Octabase; It is a data privacy company. It produces technologies that allow complex cryptographic methods to be applied simply in corporate applications.
Pedudi; AR development and education set based on gamification.
Eyca; It is a prepaid youth card for young people aged 13-29, offering discounts and cashback benefits in 30 countries and 8 different categories.
Dijifi; Turkey and share with the readers of developments in the field of financial technology in the world.
Kidoole; It brings together families and institutions that offer activity, education and care services for children.
Bulbunu; The easiest way to find everything you are looking for and sell what you find.
Adachypay; Ties a user's account to his specified mobile money or local bank account, users simply scan QR code to make a payment.