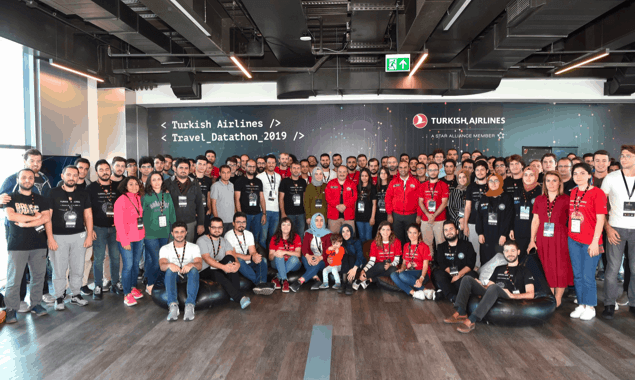 22 Sep

Travel Datathon 2019

In the past 2 years, we have organized Travel Hackathons in order to discover innovative ideas that will increase the travel experience of our passengers. This year, we have left behind a Travel Datathon adventure in which we are looking for innovative solutions in order to digitize the work processes of our staff, mostly in the data focus.

We are in the rightful pride of successfully completing Travel Datathon 2019, which we organized at Atatürk Airport as part of the Aviation, Space and Technology Festival Teknofest Istanbul between September 20-22.

Held for second time in this year and for the first time as Turkey's first Aviation, Space and Technology Festival, Teknofest Istanbul has set up a journey to support local and national technology initiatives and has turned into an event that followed by our nation and the whole world very closely. This year, 1.7 million visitors showed up in the festival, where all technology giants displayed their projects along with the air shows during the event. The visitors took an interest especially in competitions regarding İHA, drone, unmanned underwater technologies and rocket construction. attracted the attention of technology lovers. We are proud that Travel Datathon 2019 has been an event including such kind of those competitions.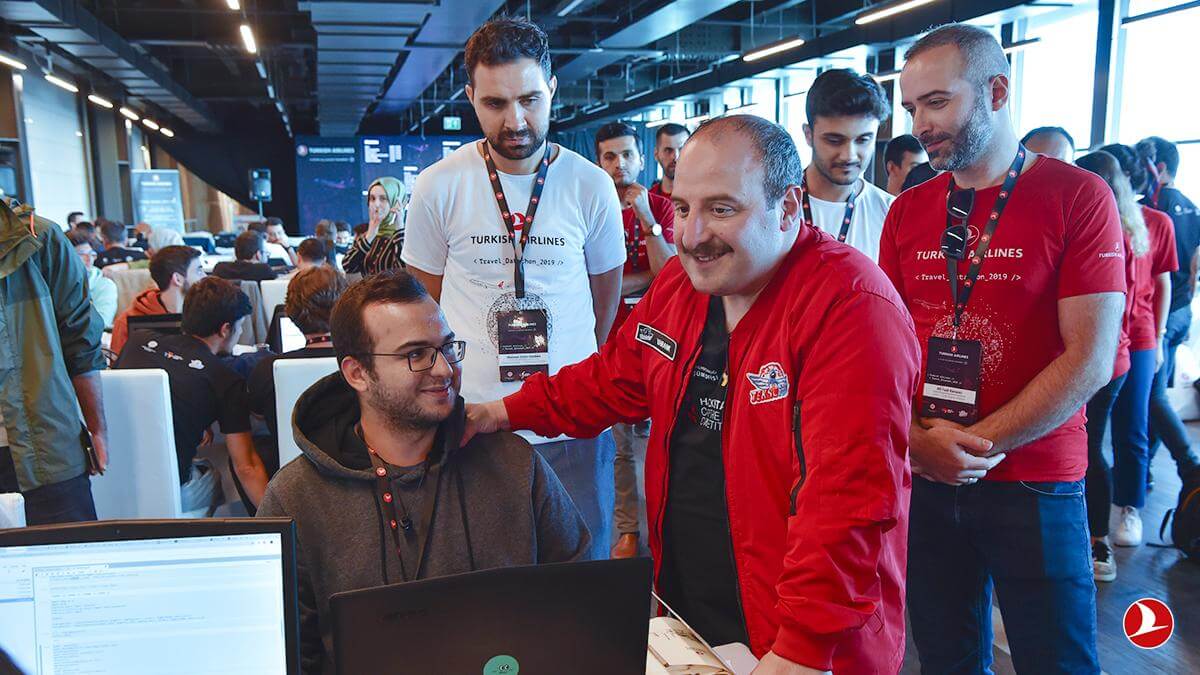 THE BEGINNING OF THE TRAVEL DATATHON PROCESS
What is datathon? Held in specific times, Datathon is a competition on business cases using technologies such as machine learning and artificial intelligence. Datathon teams try to find solutions to a business case with the data sets provided.
We started the Travel Datathon process in the first months of the year by analyzing past datathon and data specific hackathon studies. The reasons why we did want to organize a new datathon can be listed as below:
· To discover different solutions to the business cases presented
· To bring new projects to the company in the field of analytics
· To be able to use the resulting solutions quickly in company processes
· To create our own enterprise ecosystem and increase our company's awareness in this sense
. To employ the new skills discovered by this event
Those reasons motivated us at the point of organizing a new datathon. We had a meeting with the Data Solutions unit right after our studies were completed. Data Solutions Unit has been quite interested in our studies. The next thing to do was to identify the case we wanted to be resolved during the datathon. To do that, we organized meetings with Sales Projects Support Directorate and Network Planning Directorate. In order for the case to be in line with the needs, to be resolved within 48 hours, and to have a high potential to be converted into a project, we scrutinized it. Then we decided the cases that will be presented to the teams. After these meetings, the datathon process officially started.
APPLICATION PROCESS
After the date, place and the awards to be given to the teams were determined, we created our website and started to receive the registrations in no time. We made an announcement to those who participated in the Travel Hackathons that we did before and to those who already registered in the Developer Portal. Also, we shared event information on Turkish Airlines official social media pages that reached thousands of people.
We created the application page with Airtable. Then, we managed all the people, teams, project information and all processes related to the organization through the Airtable chart and views.
Tamly registrations were only accepted. We paid attention to the individuals in the teams to be competent to solve cases.
By the end of this process, we received 120 teams / 450 team members in total.
PRELIMINARY EVALUATION PROCESS
One of the most challenging processes was determining the teams to be invited to. In this process, we sent a Pre-Assessment Test prepared by our Data Solutions unit to the teams. In this test, we shared the passenger checkin data of the first 7 months of 2018 with the teams. This data included which check-in channel passengers preferred (such as Kiosk, website, counter). We asked the teams to predict the check-in channel preferences of the passengers in the 8th month of 2018.
We have determined 24 teams / 96 team members who will participate in Travel Datathon, who found the results compared with the actual data. Then, we sent invitations to the selectes teams via e-mail. We called the teams one by one and made a short telephone interview. In this interview, we asked the teams about the participation status of the applicants and in which cloud environment they want to work. We also had the chance to measure the motivation of the teams during those interviews.
When the individuals who will join Datathon were clearly identified, we created a Slack channel open to competitors, mentors, cloud providers and organization team. As in previous years, we made all communication via this channel before and during the competition.
Travel Datathon Partners
Cloud services and technological infrastructure to assist them in realizing their projects were very important. So we wanted to make as many cloud providers as stakeholders for datathon. In this process, Amazon, Google, Microsoft and Oracle firms allowed teams to use their cloud environment and services. At the same time, mentors from these companies provided technical support to the teams.
While the teams were developing their projects, there were about 60 mentors in the field who supported them technically. Mentors included Turkish Airlines employees as well as experts in big data and data analytics from LC Waikiki, Komtaş, Obase and Artiwise.
Redbull provided fuel support to the teams by providing energy drink in the area for 48 hours.
Ceri Çukran from the Startershub team organized a workshop on startup ecosystem and investment processes for the participating teams. He met with the teams after Datathon and made evaluations.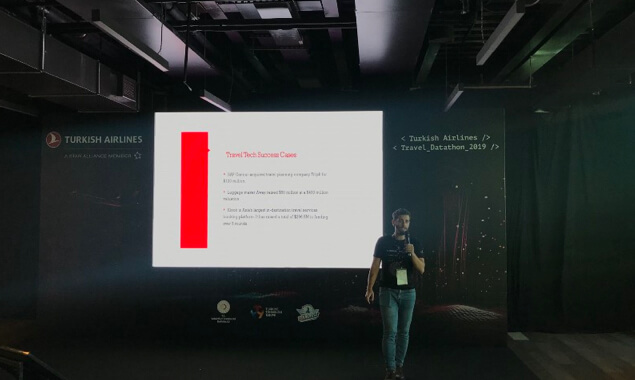 Organization
As it is part of Datathon Teknofest, we have carried out exploration studies to determine the most suitable area for the competition at an airport that has been closed for use. After our discovery work, we decided on the area between 228-230 gates in Atatürk Airport International Departures. Our contestants entered the datathon area through the bellows number 229. Part of the area that we have divided into 4 compartments was the resting area with pear cushions and pouffe; a playground with a pinball table, a game console that offers a virtual reality experience, a racing simulator and a mini basketball backboard, a dining room where some of us can open buffet 3 times a day, where cold, hot drinks and refreshments are provided; The other part was the main hall where the contestants developed their projects for 48 hours and where our stage and LED screen were located.
This though data marathon, started with opening speeches of Turkish Airlines Corporate Development and Information Technologies Deputy General Manager, Mr. Mr. Ali Serdar Yakut and President of Turkish Airlines Digital Innovation and Analytical Solutions, Mr. Serdar Gürbüz.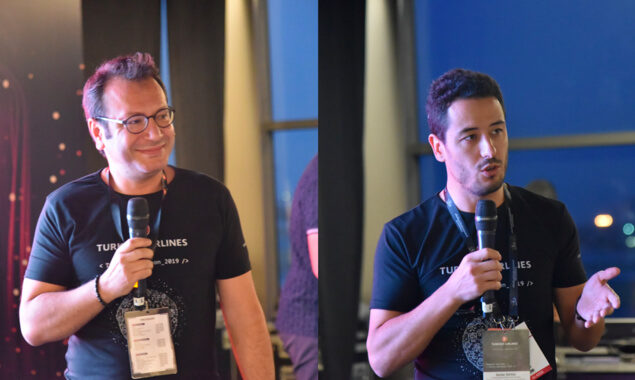 We wanted to support contestants with mentors who technically supported them while developing their projects for 48 hours. Nearly 60 mentors, including Turkish Airlines employees, managers and datathon partners, guided them through the development process of the teams.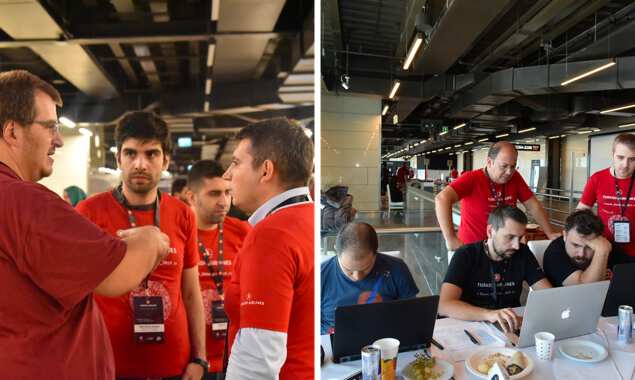 We organized a karaoke competition on Saturday night to increase teams' motivaitons. The jury team consisting of our organization team determined the winner of the contest in which at least one person from each team and our mentors sang. The winner of the Travel Datathon Karaoke Competition, where beautiful sounds (!) competed, became the owner of the violin-sized plane model.
Since it was not possible for all 24 teams to make a presentation against the jury, 9 teams determined according to the results sent by the teams got to the finals.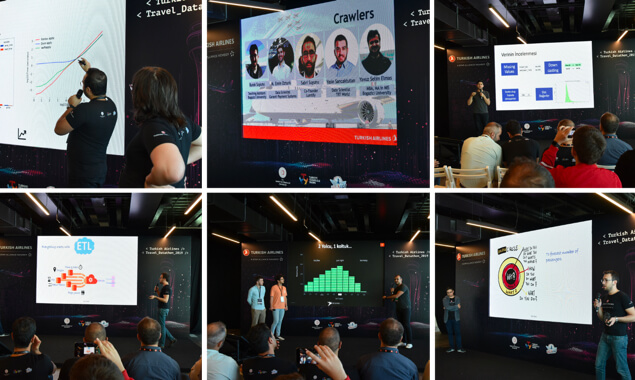 In the final evaluations, the jury consisting of Head of Digital Innovation and Analytical Solutions from Turkish Airlines. Mr. Serdar Gürbüz, Sales Analysis and Projects Support Manager Mr. Ali Fuat Kazancı, Data Solutions Manager Mr. Kadir Kaya, Digital Business Development Manager Mr. Muhammed Seyda Tartar, Mr. from Komtaş. Mr. Ahmet Melih Selçuk, Deputy Dean of Sabancı University Faculty of Engineering and Natural Sciences, Mr. Selim Balcısoy, Head of Department of Management Information Systems of Şehir University, Mr. Enes Eryarsoy and LCWaikiki Big Data Manager Mr. Ahmet Kalafat determined the winners after listening final presentations of 9 teams in finals.
Before the award ceremony, all contestants participating in Travel Datathon 2019 were presented with participation certificates tailored to their names.
Images from Travel Datathon 2019
CASE REQUIRED TO BE SOLVED
The first case we asked the teams to resolve was to find the the new inbound / outbound list for any route and the number of passengers in the market in case of any change in flight schedule(ti me change) . Contestants were given about 20 hours to submit the results. Case results were evaluated and made up 30% of the teams' results.
The second case that we wanted to be resolved was to estimate future reservation numbers based on the historical reservation data of airlines all over the world.
For the second case, the teams were given data sets consisting of 90 million lines of anonymized past reservation information.
The result of the second case made up 70% of the team result.
1. Crawlers (Yavuz Selim Elmas, Sabri Water, Yasin Sancaktutan, Burak Water, Mehmet Emin Öztürk): International Business Class Round Trip Flight Ticket + 20.000 TL
2. Stationary Traveler (Burak Önal, Kadircan Özdemir, İlhan Yıldırım): European Business Class Round Trip Flight Ticket + 15.000 TL
3. Dataddicts (Yetkin Eser, Özge Filizcan, Ceren Kartal, Azat Şaşkal): European Economy Class Round Trip Flight Ticket + 10.000 TL
Special Awarded Teams
Stationary Traveler (Burak Önal, Kadircan Özdemir, İlhan Yıldırım): Amazon Special Award Amazon Echo
Flying Red (Batuhan Kırmızı, Emre Tanrıverdi, Aytaç Kayadelen, Salih Başaran): Amazon Special Award Amazon Echo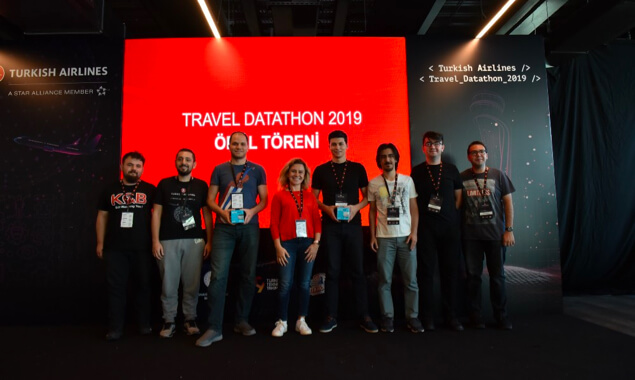 Travel Datathon 2019 in numbers
120 team applications (450 people)
24 competitor teams (96 people)
90 million lines of flight data
10 stakeholder companies
· Catering Services
o 3 Main meals
48-hour non-stop snacks
o 48 hours of continuous cold / hot beverage and energy drink
Workshops
Entrepreneurship Ecosystem and Investment Processes
· Entertainment
Datathon Karaoke Voice Contest
Pinball
Mini Basketball Platform
o Game Consoles
Virtual Reality Games
o Redbull Racing Simulator
· Gifts
Turkish Airlines Model airplane
Turkish Airlines Sleep Kit
Turkish Airlines Economy Class Refresh Kit
Agenda
Pen
Passenger boarding passes printed exclusively for Travel Datathon 2019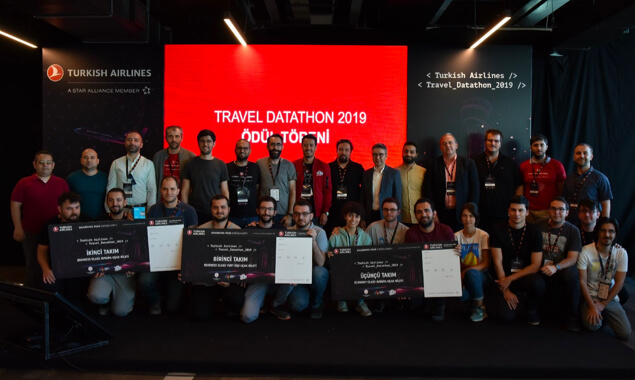 Datathon is Over, What Will Happen Now?
As we have told all contestants, we decide how we can work together not only with the finalist teams but also with all the teams participating in the datathon. After the meetings with the teams, we will initiate projects to realize some solutions together.
We are happy and proud to realize our pre-Datathon motto. Travel Datathon 2019 has been a datathon that arouses aviation and leads the industry with big data and machine learning technologies.