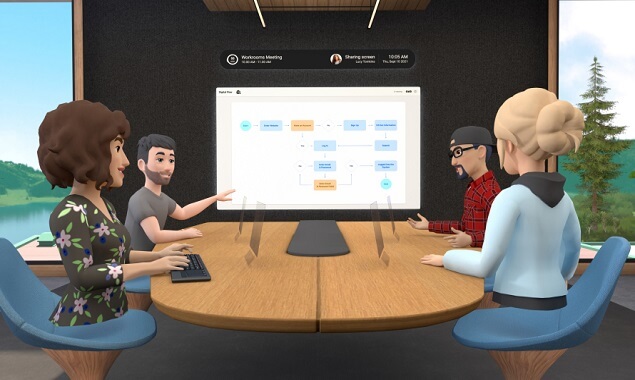 27 Aug

Horizon Workrooms: Remote Collaboration Reimagined

The way we work is changing. More people are working remotely, more people want flexible work options, and more people are re-thinking what it means to be in an office. But without the right connective tools, remote work still has plenty of challenges. Working without colleagues around you can feel isolating at times, and brainstorming with other people just doesn't feel the same if you're not in the same room.So today, we're excited to launch the open beta of Horizon Workrooms, available for free to download on Oculus Quest 2 in countries where Quest 2 is supported.

Workrooms is our flagship collaboration experience that lets people come together to work in the same virtual room, regardless of physical distance. It works across both virtual reality and the web and is designed to improve your team's ability to collaborate, communicate, and connect remotely, through the power of VR— whether that's getting together to brainstorm or whiteboard an idea, work on a document, hear updates from your team, hang out and socialize, or simply have better conversations that flow more naturally.

Workrooms brings some of our best new technologies together for the first time into one experience on Quest 2. Using features like mixed-reality desk and keyboard tracking, hand tracking, remote desktop streaming, video conferencing integration, spatial audio, and the new Oculus Avatars, we've created a different kind of productivity experience.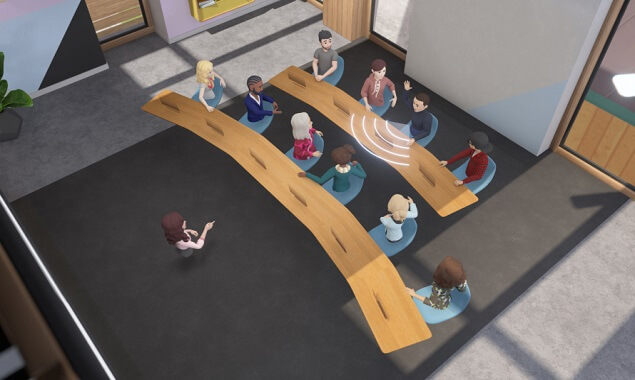 We've been using Workrooms to collaborate here at Facebook already, and we think it's one of the best ways to work if you can't be physically together.
Workrooms is a virtual meeting space where you and your colleagues can work better together from anywhere. You can join a meeting in VR as an avatar or dial into the virtual room from your computer by video call. You can use a huge virtual whiteboard to sketch out ideas together, bring your computer and keyboard into VR to work together with others, or just have expressive conversations that feel more like you're together in person.
Here's a look at all the new features in detail:
Bring your desk, computer, and keyboard into VR with you.
Feel like you're together with avatars and spatial audio.
A virtual whiteboard as big as your ideas.
A room to suit every task.
Join in VR or by video call.
Designed to use your hands.
Meeting notes, file sharing, calendar integration, and chat.