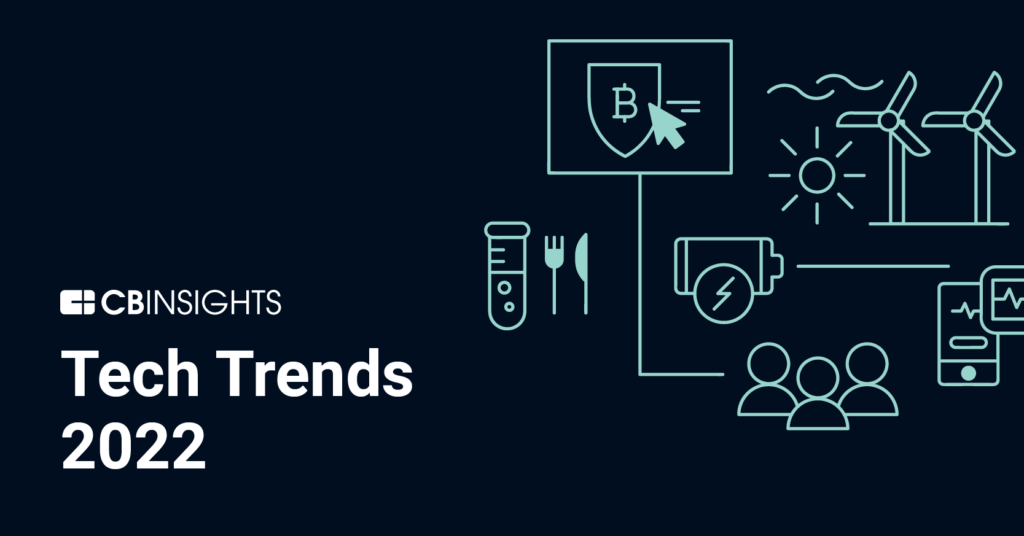 CB Insights' 12 Tech Trends To Watch Closely In 2022
August 2022
The CB Insights report highlights the top 12 tech trends to watch in 2022.
The report is published by tech market intelligence platform, CB Insights – they analyzed signals like investment activity, executive chatter in earnings transcripts, and media mentions to identify the trends. The 70-page report digs into the following 12 trends:
Next wave of telehealth. Big tech companies, retailers, and telecoms will compete with existing healthcare players for the $30B+ remote patient monitoring market.
The Covid-19 pandemic upended healthcare in countless ways, but one outcome showing staying power is the rise of remote patient monitoring (RPM) — tech that tracks key vitals and metrics while patients are away from typical medical settings.
Crypto crime.The crypto security space will expand to address rising cyber crime as hackers continue to evolve in their tactics.
Though illicit activity reportedly accounts for less than 1% of crypto transactions, reports of crypto crimes have risen an average of 312% every year since 2016. These include hackers stealing coins from investors, individuals falling for crypto investing-related scams, and more.
Direct-to-avatar.Mass fashion brands will go all in on the avatar economy as the metaverse, NFTs, and digital identities take off, and the low cost of development and huge user bases entice a deluge of entrants.
While there is massive potential for brands going D2A, opportunities — via minting NFTs or launching in-game virtual content more broadly — hinge on 1) branding and 2) monetization. By entering virtual worlds, brands can engage with large, young audiences where they're spending much of their time.
Virtualizing the clinical trial.In silico techniques will cut the time and money it takes to develop a drug and insulate clinical trials from disruptions like Covid-19.
In 2022, we're likely to see more pharma players incorporating in silico tech into their pipelines as a layered approach to make clinical trials more efficient and resilient.
Net-zero or bust.Climate tech is becoming a VC darling, but high capital costs and murky claims will pose tough challenges for investors.
With climate-friendly technologies maturing across a broad array of sectors and investor demand booming, the coming year is set to be a breakout moment for sustainability investment.
Ultrafast convenience.Retailers will join forces with cash-burning ultrafast delivery companies to help win over consumers.
Now, the e-commerce model of "speed is king" is being pushed to the limit. Funding to startups offering delivery in 10 to 20 minutes surged nearly 10x year-over-year in 2021 to approach $8B.
De-risking supply chains. Manufacturers, retailers, and other stakeholders will turn to digital twins and the microfactory model to bolster their operations.
Long-standing cracks in global supply chains came into sharp focus last year, as pressure from forces like the pandemic, weather events, labor shortages, and port congestion mounted. This has created a swell of demand for tech solutions that can provide a step change in the resiliency, agility, and efficiency of logistics networks which allow manufacturers, suppliers, and retailers to shift toward more proactive business models.
The electrification of everything.Battery tech will make huge advances this year, bringing the promise of electrification to everything from planes to basketball shoes.
We see the move toward electrification every day. Buses amble past propelled by silent electric engines, homeowners are installing power-generating roof tiles, and some athletes are even wearing electric shoes that adapt to the shape of their feet.
The consumer privacy battle.Consumer privacy will take off as a strategic business priority in 2022 — which could end up giving big tech an even greater advantage.
Over the past 20 years, tech giants like Amazon, Facebook (aka Meta), Google, and Apple have amassed unfathomable amounts of user data. While the increasing generation and collection of consumer data has spurred innovation, it has also given rise to security concerns and set off waves of consumer privacy regulation (like the EU's General Data Protection Regulation, or GDPR) over the past few years.
Killing the credit card.Buy now, pay later purchases will become more frequent and higher value as millennial and Gen Z shoppers gravitate away from traditional cards.
As the Covid-19 pandemic drove unprecedented levels of e-commerce shopping, point-of-sale (POS) financing or "buy now, pay later" (BNPL) saw a huge boost while credit card balances dropped to their lowest point since 2017. Currently, BNPL still reflects a small portion of the overall spending on payment cards (including credit, debit, and prepaid cards), an industry that sees roughly $8T in annual spend volume in the US.
Lab-to-table.Regulations will finally allow lab-grown meat to hit restaurant tables and grocery store shelves and begin competing against traditional meat and plant alternatives.
 Lab-grown meat companies, which make meat using animal-derived cell cultures, have existed for years but to eat their products, you'd have to sign a waiver. Once these companies have regulatory approval, they will be able to bring their products to market.
Fusion energy.Advances in AI and a startup funding splurge will push the long-sought clean energy source closer to reality.
The allure of fusion energy is easy to understand it could offer an effectively unlimited source of energy that's safe to use and doesn't produce carbon emissions. It also could become a powerful tool to help ward off climate change as a more reliable complement to renewables like wind and solar.