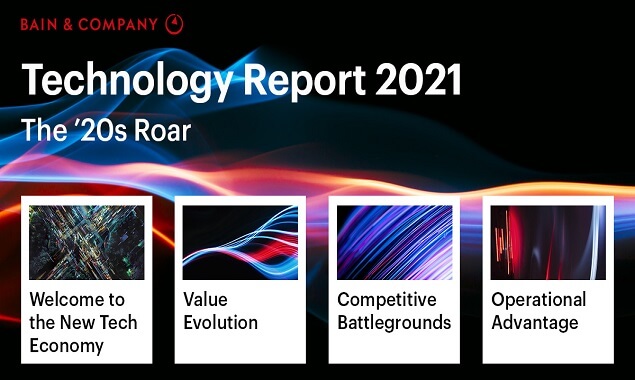 Bain Technology Report 2021
October 2021
Today, technology has become a serious need for all sectors. This will allow sectors to increase their growth rates by using the power of technology and innovation in the next 10 years. Bain Technology Report, prepared annually by Bain, presents us with predictions about the future of companies working in different sectors.
The report consists of 4 main parts.
Beyond the fact that technology is a sector on its own, it is the power that changes the balance in almost every sector. When we look at the world in general, it is seen that the majority of the equity capital is managed under the leadership of economy and technology companies. The steps to be taken in the next phase of cloud computing and non-market factors will carry this change to different points.
Tech-tonic Shifts: Technology Is Reshaping the Global Economy
Why Venture Capitalists Are Doubling Down on Technology
SaaS Is Spurring the Next Cycle of Software Superperformance
Competitive Battlegrounds
Bringing Order to Chaos in the Hybrid Cloud
The Semiconductor Equilibrium Is Shifting
Artificial Intelligence: Who Will Lead the Next Era?
The US and China Are Decoupling, and Other Countries Are Following
Inter-industry competition for technical talent is global
Catch tech buyers and never let go