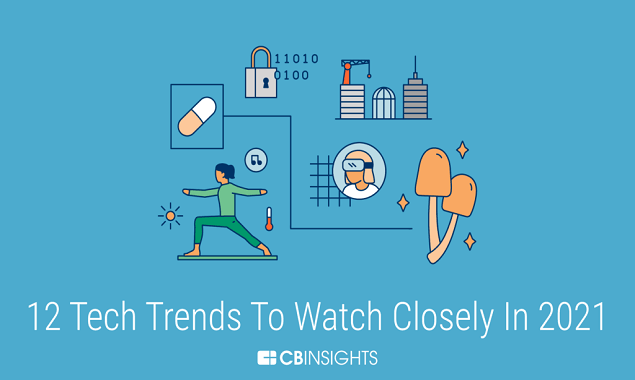 03 Jun

12 Tech Trends To Watch Closely In 2021

Using its emerging technology insights platform, CB Insights has shared its top 12 tech trend reports to watch closely in 2021.

The proposed technologies are as follows:
Resilience will become a more prominent corporate function as anxious companies steel themselves against unprecedented external disruptions.
As powerful quantum computers emerge, businesses will be forced to secure data faster than these computers can decrypt it.
Businesses will prioritize building AI technologies that can interpret and respond to human emotions as they look to connect with consumers.
Technology will help usher psychedelic medicines into the mainstream. The so-called "psychedelic renaissance" is gaining momentum across the US, as regulators, investors, and the public increasingly embrace psychedelic medicines as a promising treatment tool for
Exclusivity networks will become the future of social media.
Silicon Valley types will move beyond dreams like smart cities to the literal creation of communities built from the ground up.
Shared virtual spaces will redefine how we shop and interact with people and businesses.
Crypto rewards will reshape how brands, loyalty programs, and payments companies offer cashback.
From fulfillment centers to mall health clinics to vertical farms, reimagining spaces will create an unprecedented opportunity.
As office culture returns, spaces will be less populated and personal, and the aesthetic will shift away from the collaborative "campus" model.
The continued convergence of health and self-care will unbundle the spa and bring it into homes, shops, and beyond.
To fill the gaps in telehealth, expect more healthcare services in the home, from house calls to remote patient monitoring to at-home lab testing.