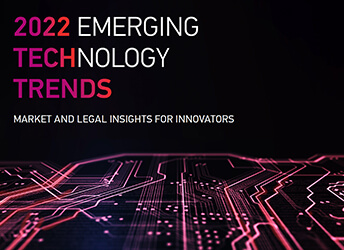 07 Apr

2022 Emerging Technology Trends

Advances in technology are constantly changing the way we live and work. Unexpected demands from the ongoing COVID-19 pandemic have further accelerated the pace of these changes.

Perkins Coie, an American-based consulting company, compiled the developments that are expected to occur in different technologies in 2022 in his research.

You can find below what subjects are covered in the report

AI, Machine Learning & Quantum Computing
With applications across industries, these developments are also raising new ethical, legal, and business issues.
Cloud Computing & Distributed Infrastructure
New methods for storing and access data are transforming operations in both public and private sector organizations.
Digital Media & Entertainment
Technology has increasingly merged with media and entertainment, transforming content delivery and monetization.
Greentech
The need to reduce companies' carbon footprints is driving the development of technology to improve environmental sustainability and energy and other resource efficiency.
Healthtech & Medtech
New healthcare technologies are creating newer, more efficient modes of service delivery and advancements in diagnosis and treatment.
Mobile Wireless Technology
Mobile wireless technologies are deployed by business, government, and consumers to support a breadth of uses and developments.
Privacy & Security
As more businesses adopt new technologies, data privacy and security are becoming the highest priorities.
 Retail & E-Commerce
Technology and the pandemic have caused a sea change in the sales and delivery of products and services.
Robotics & Autonomous Systems
Developments in these technologies are enabling advances across a range of industries, including air and ground transportation, manufacturing, and healthcare.
Spacetech
Technologies that support space travel and activities conducted in space are finding both military and civilian applications.