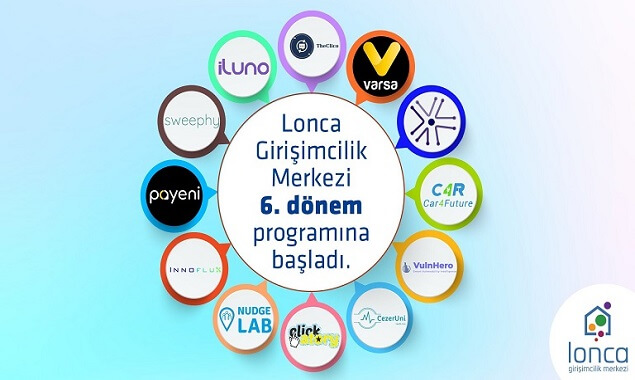 12 Startups 6th Term of the Lonca Entrepreneurship Center
March 2021
Lonca Entrepreneurship Center, Founded by Kuveyt Türk, started its sixth term with a team of 12 entrepreneurs.
They accepted applications in two categories, General and FinTech. They will grant 40 thousand TL to the 12 entrepreneur team selected from among 400 applications.
The startups work in many areas such as technology, health, education, artificial intelligence, and cyber security. 15 juries consisting of Kuveyt Türk executives and mentors evaluated the startups by considering criteria such as innovative idea, applicable product or service, scalable business model, market potential and a strong revenue-benefit model.
Startups started using Workinton offices. There is also special API support for FinTechs. There are also finance-oriented trainings for start-ups and support for participation in international events.
The fields of activity of 12 startups are as follows:
Car4Future: It is energy sharing network software and energy transfer hardware developed with block chain technology for electric vehicles.
CezerUni: It is a wearable medical device that analyzes the vital signs values of hospitalized patients or patients receiving home care services remotely for 24 hours.
Clickatory: It is a marketplace platform operating in the digital products category.
iLuno: It is a personal career assistant for exams.
Innoflux: Flux Braille is a portable device that allows visually impaired individuals to instantly access printed texts, take notes.
NudgeLab: NudgeLab is a platform that develops smart warning and surveillance systems for loan customers.
Payeni: It is a digital wallet and corporate privilege platform that makes corporate discount agreements for companies and enables employees to access a wide network of privileges.
Sweephy: It ensures that company data in different sources are cleaned autonomously with NLP techniques.
TheClico: It is an application that allows the tracking of feedback, complaints and evaluations from web platforms from a single point.
Varsapp: Varsapp is a platform where unused items can be rented securely.
Vivente: Vivente Software offer digital solutions in the field of health.
VulnHero: VulnHero is a cloud-based vulnerability and threat intelligence service for enterprises and SMBs to help them track and manage vulnerabilities and security patches easily and efficiently.